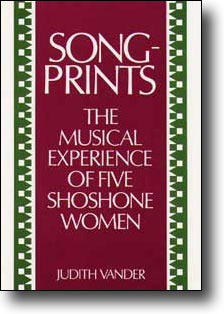 Songprints
The Musical Experience of Five Shoshone Women
Judith Vander
Urbana: University of Illinois Press, 1988.
Winner of the 1989 ASCAP-Deems Taylor Award and the 1989 Pauline Alderman Prize for New Scholarship on Women in Music
"I find your book to be an inspiration. Thank you for providing such a lovely window into Shoshone lifeways, and thank you for enabling me to hear such personal and moving songs and music. And I wish I could thank these women you recorded from; it is a gift they have given through you to all of us." -- Cathy Barton, folksinger
"An unusual contribution to the large body of literature dealing with Native American music and its cultural context. . . . It is interestingly written, includes considerable verbatim materials from interviews, and is readily accessible to the educated general reader." -- Bruno Nettl, Choice
"Filled with information and insights that rarely surface in standard academic writing. . . . Destined to serve as a model of future investigations and will become a classic in the field." -- William K. Powers, Journal of American Folklore
"Vander makes significant contributions to many areas, including ethnomusicology, women's studies, Native American studies, and cultural anthropology." -- Charlotte J. Frisbie, author of Navajo Medicine Bundles or Jish: Acquisition, Transmission, and Disposition in the Past and Present
Songprints, the first book-length exploration of the musical lives of Native American women, describes a century of cultural change and constancy among the Shoshone of Wyoming's Wind River Reservation. Through my conversations with Emily, Angelina, Alberta, Helene, and Lenore, I try to capture the distinct personalities and perspectives of five generations of Shoshone women as they tell their thoughts, feelings, and attitudes toward their music. These women, who range in age from seventy to twenty, provide a unique historical perspective on many aspects of twentieth-century Wind River Shoshone life.
In addition to documenting these oral histories, I transcribe and analyze seventy-five songs that the women sing—a microcosm of Northern Plains Indian music. I show how each woman possesses her own songprint—a song repertoire distinctive to her culture, age, and personality, as unique in its configuartion as a fingerprint or footprint.
The introduction to Songprints is available online at Google Print. If you would like to read it click here.
A cassette tape, which includes 26 songs sung by the women (and, which are transcribed in the book), is available for purchase as a complement to the book.