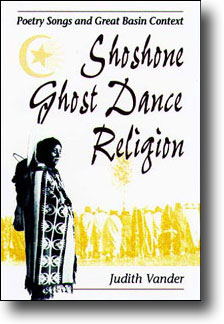 Shoshone Ghost Dance Religion
Poetry Songs and Great Basin Context
Judith Vander
Urbana: University of Illinois Press, 1997.
Winner of the Alan P. Merriam Book Award from the Society for Ethnomusicology for Outstanding Book in Ethnomusicology
"In my mind the most significant contribution to the study of American Indian music in the last decade, it clearly establishes its author as the authority on Great Basin music." – Thomas Vennum, Jr. – Journal of the Society for Ethnomusicology
"Judith Vander's remarkable new book represents the culmination of her twenty years of research on Shoshone musical life. … In short, this book constitutes a landmark in Native American studies and has already become a classic in the literature of ethnomusicology. It is a must-read for anyone interested in ethnomusicology, native American studies, anthropology, and folklore." -- Victoria Lindsay Levine, Notes
"Vander's study offers a unique window for peering into the 1890 Ghost Dance, a companion piece to Mooney's classic study." -- Michael Hittman, author of Wovoka and the Ghost Dance: A Source Book
"This is a very comprehensive volume, one that includes far more than the title implies: a treatment of Shoshone Ghost Dance songs in their more general Great Basin context. It, in fact, delves deeply into the whole of Great Basin religious tradition and symbolism, cataloging nearly everything that previous ethnographers have said about these topics, but then going on to summarize conflicts and suggest new views. As such, it is in many senses a new "Handbook" of these traditions, but in addition, a long overdue rethinking for the region from a fresh perspective. Certainly no one since Julian Steward (1938) has attempted such a comprehensive work, even though one was badly needed … Thus, Vander is to be congratulated for a very thorough job, and for setting a new standard against which any substantive interpretive work in the future will be measured." – Catherine S. Fowler, Anthropological Linguistics
The Ghost Dance, which led to the 1890 massacre at Wounded Knee, was a widespread Native American religious movement. Shoshone Ghost Dance Religion demonstrates that the Ghost Dance was not a single religion, but had two branches--the Great Basin branch, a nature religion typified by Shoshone Ghost Dance songs (Naraya), and the Plains branch documented by famed anthropologist James Mooney in 1896.
Based on extensive fieldwork with two Shoshone women in Wyoming, the book presents 130 Naraya songs, the largest collection of new Ghost Dance material since Mooney's publication. It analyzes the poetic texts, rich imagery, and musical style, demonstrating their high artistic achievement. Connecting the Shoshone Ghost Dance to the ancient religious traditions of the Great Basin, it provides the cultural background for understanding the intent of the religion and its songs.