Welcome to JudithVander.com!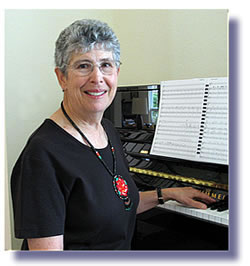 I have a variety of professional interests.I am a composer who has written music for performers of all ages. I am an ethnomusicologist who has written award-winning books on Native American music and religion. I also write poetry. This website will introduce readers to all my areas of interest, but my major goal is to make accessible (free of charge) my musical compositions to the varied community of musicians and music teachers who might be interested in performing them.
Let me briefly fill you in on my background. From my first piano lessons when I was four years old, music has always been at the center of my life. I received two degrees from the School of Music at the University of Michigan. In quick succession I earned a Bachelor Degree in Music Composition, married, and started my family of three children. While my children were in elementary school, I composed songs for the school choir. These songs were performed and it was the beginning of my interest in composing music for children. During this same period I taught myself guitar and banjo and performed folk music with the family and our friends.
In 1978, I received a Masters Degree in Ethnomusicology. This was the start of a twenty- year period of Native American research and writing. My first book presented the music and lives of Wind River Shoshone women, and the second was a broad study of Great Basin music, poetry, and religion.
Since the publication of my last book in 1997, I have returned to my first love, composing. My compositions since this time include a song cycle for children's and adult choirs, setting five poems from William Blake's, Songs of Innocence and of Experience. Seven children's songs, which I set to poems of English-speaking children from around the world, will be performed by the Ventura Children's Master Chorale in May 2005 . In addition to vocal music, I have also written instrumental works for students. In May 2005, the Ojai Youth Symphony will perform the first of two pieces for strings, which I have written for them. Finally, drawing on my knowledge of Native American music, I wrote a piece entitled, "Powwow Time for Organ and Flute," which will have several performances during the coming year. It is in three movements, corresponding to musical genres of the powwow: Flag Song, Round Dance, and War Dance. I have also recently completed both string quartet and piano trio versions of the first movement of this work, the Flag Song.
Finally, my website includes samples of the poetry, which I have written over the years. For me, music and poetry are sister arts; they are my two voices of expression.
Let the dialogue begin!